Sponsor a Bird of Prey
When you sponsor a bird of prey at SMJ Falconry we don't just give you a certificate and a photograph. We make your connection as meaningful as possible by offering you the chance to visit and handle your new friend once during each year of sponsorship!
So, sponsor one of our birds of prey and in return we'll give you:
A visit to handle your new friend, each year of sponsorship
a personalised sponsorship certificate
a photograph of your chosen bird of prey
Key Ring and Fridge Magnet
6x4 Photograph of your chosen bird
USB Stick containing photographs of your chosen Bird and a selection of our other birds at SMJ Falconry
Anya - Female Steppe Eagle
Hatch date: 08/05/2012
Anya is our Steppe Eagle, she is our first eagle, we got Anya in August 2012 and she progressed well with her training but had an accident and fractured her left leg. She had to have it pinned for 3 months and she couldnt be teathered for 3 more months after that which really affected her training. James has really worked hard with her after she has fully moulted out and she is now flying free, because she wasn't exposed to demonstrations and show's it will take a long time to get her flying in demonstrations, but it something we are aiming for in the future.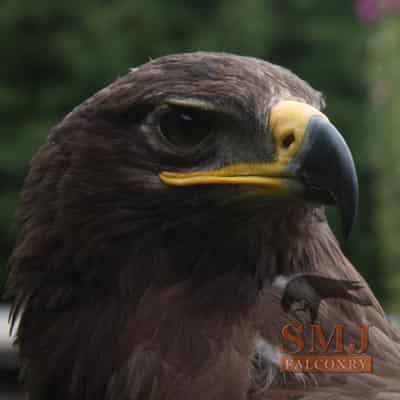 Julianne - Female Hooded Vulture
Hatch date: 12/04/2014
Julianne is our only Vulture currently, but she is a fantastic bird full of Character. We collected her from her breeder in mid-Wales at just 12 days old, she was small enough to sit in the palm of your hand. Once she was a bit holder, she travelled around in the front of the van visiting schools and going to demonstrations around Yorkshire. She finally fledged when she was 13 weeks old and then started flying over our little valley and back. She is now an accomplished demonstration bird and is going from strength to strength.
Candy - Female MacKinder's Eagle Owl
Hatch date: 2/4/2010
Candy, our Mackinder's Eagle Owl is a lovely owl, she is very slow and patient. She is great at shows and also at flying during experience days. She has joined the ranks of the flying display team and is still getting to grips with big crowds.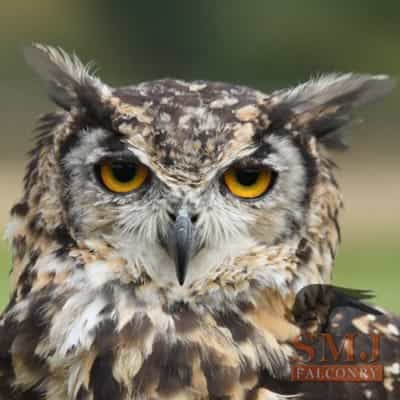 Willow - Female Red Kite
Hatch date: 18/05/2015
Willow is our Red Kite, we've had her since she was just 4 weeks old and has been travelling around with us ever since. She is a very kind natured bird and very relaxed in pretty much all environments. Red kites are an amazing bird and recognised up and down the country, they have had a rough time over the last 50 years but are now no longer endangered in this country. Willow is Chris's favourite bird and takes part in most demonstrations and experience days.