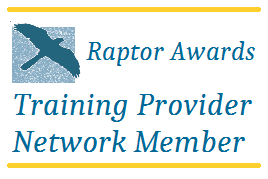 This guided, hands-on, 4-day course is suitable for those new to falconry, those who wish to keep birds of prey (including those wishing to own their first bird of prey), and experienced falconers & bird owners who want to hone their skills and achieve the recognition given by the award. All aspects of bird of prey management and husbandry, up to free flying, are covered, and you will receive an official certificate upon completion.
The Raptor Award is a nationally recognised award designed to educate participants to keep birds of prey in a safe and healthy condition. It has been developed in partnership with The Hawk Board, along with the assistance of professional Falconers and avian vets throughout the UK. Here at SMJ Falconry, we are approved by Raptor Awards to deliver the training and certification.
The Award is divided into two units:
Keeping a Bird of Prey
C1 - Accommodation and Equipment
C2 - Feeding and Nutrition
C3 - Monitor and Maintain Health
C4 - Catching, Restraining and Moving
C5 - Legislation
Training a Bird of Prey
C6 - Species Characteristics and Types
C7 - Furniture and Equipment
C8 - Initial Training, Manning, and Weight Management
C9 - Flying an unrestrained Bird of Prey
Each unit carries its own certification, and more units under Raptor awards are currently being made, such as; Pest Control.
The cost of this 4-day course is £630 per person. You can choose to take the course over 4 consecutive days or spread it over a few weeks. Please bring your own lunch, accommodation can be suggested locally for those wishing to stay overnight.
Come along and our friendly, experienced falconers/bird-handlers will personally guide you through to successful completion. We've got a diverse collection of over 50 birds of prey here, including: falcons, hawks, owls, kites and an eagle and vulture, so you'll get plenty of hands-on experience!
To book your course contact Sandra:
To find out more about the Raptor Awards please visit their website!
We are located in West Yorkshire, near the borders with North Yorkshire & Lancashire, UK.
Following the official certification, if you wish to take your training even further we can arrange something with you to suit your personal requirements.