Bird of Prey
Wedding Services
Our wedding experience will really add something spectacular to your special day -- creating extraordinary memories for you and your guests. You can choose from a wide variety of options, including your choice of friendly ring bearer (a beautiful owl or majestic hawk) who will fly the rings to your best man during the ceremony. We can also offer a birds of prey display team for photographs afterwards at your reception; also a fun and interactive flying display, if you wish!
Your guests can also meet, handle and photograph the bird(s).
We know this is a very special day, and with more than 5 years of experience providing the service of our birds of prey at weddings, you can be assured that we'll deliver!
Flying Wedding Ring Delivery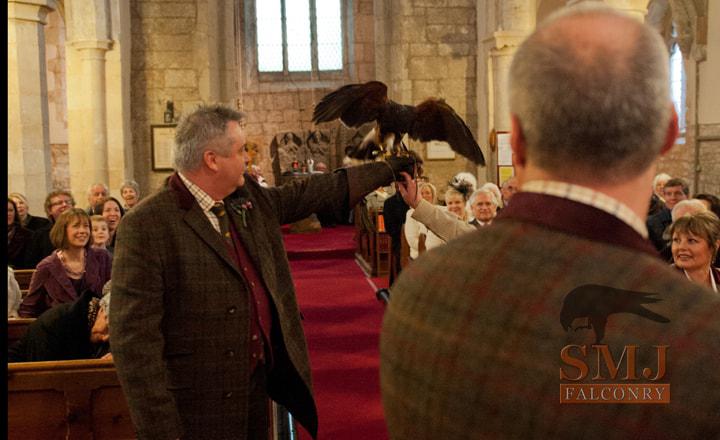 One of our friendly ring bearers (a magnificent owl or hawk) will fly down the aisle delivering wedding rings to the Best Man or another person of your choice. This special guest will also be available following your ceremony for handing and photographs.
Prices start from £375
Ring Delivery & Reception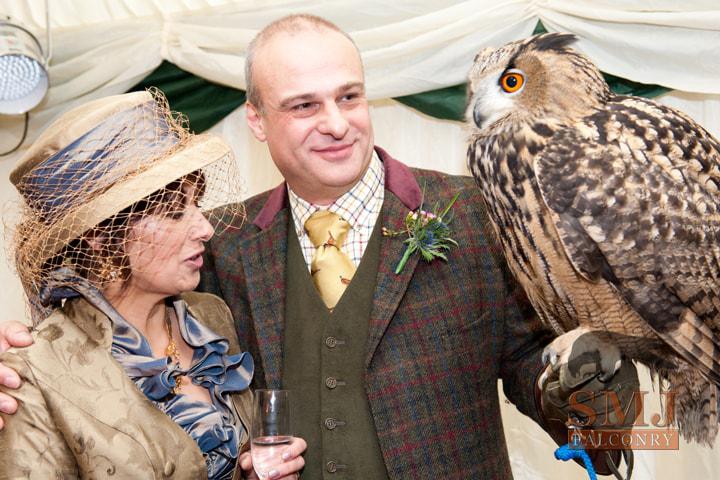 In addition to the flying wedding ring delivery, the owl or Harris hawk of your choice will be available during your reception where they can be held and photographed.
Prices start from £425
Wedding Ring Delivery & Display
Wedding ring delivery, this time with the addition of an amazing bird of prey flying display by a professional falconer -- this fun and interactive flying display will include commentary and even involve some of your guests!
You will be able to choose a few birds for the flying display from our extensive collection, which includes a diverse range of owls, falcons, hawks, kites and more. There will also be plenty of opportunity for everybody to handle and photograph the birds.
A flying display requires a large outdoor area at your venue.
Prices start from £525
...moreover
We can also tailor a unique experience just for you!
So -- if you want an impressive flying ring delivery and/or a birds of prey display team at your reception, or anything else you might be looking for -- get in touch and we can arrange for you to come here and choose your favourite owl or hawk. Similarly, if you want a birds of prey display you can choose from your favourite owls, falcons, hawks, kites, kestrels and maybe even an eagle or vulture!
We can cater for you at any location. We will be travelling to you from Oxenhope, which is close to the adjoining borders of West Yorkshire, North Yorkshire and Lancashire in the UK.
To enquire about our wedding experiences please use the form to the right, or click the button below to visit our contact us page.