About SMJ Falconry
We have been involved with birds of prey for more than a decade and have years of experience providing exciting activities and services to people with our birds of prey.
Our Team
Sandra Johnson
Sandra started the business in 2006 to fulfil a life-long ambition to work with animals. She especially enjoys visiting schools and educating children about the birds of prey and their different qualities. Sandra has a real passion for all the birds, with the owls being her personal favourites. Away from working with birds of prey in a more literal sense, she also likes to draw pictures of the birds and makes them into greeting cards, which we sell in our gift shop; and can even be seen driving up-and-down the country supporting the brand in an SMJ Falconry sign-written horse-box.
Chris Johnson
Chris started falconry as a hobby in 2002, ultimately leading to the start of our business. In 2006 his hobby turned professional when he started working at a Falconry Centre in North Yorkshire doing flying displays and experience days. Next he spent 5 years breeding falcons for the middle-East and developed a passion for incubation (something he hopes to rekindle with some breeding pairs here). He joined SMJ Falconry in 2012 to begin a partnership in the family business and is responsible for overseeing the centre and making sure our birds are in tip-top condition. Chris can usually be found doing flying displays, introducing birds of prey to children in schools, or even persuading pigeons to move on from the city centre with a Harris hawk. (The bird Chris is holding in the photograph, taken by Alex Hillier, is Bandit one of our Gyr hybrid falcons.)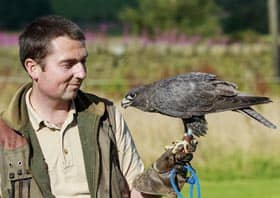 Roger Johnson
Roger has now retired from sorting out insurance contracts! He now works harder than ever keeping everything tidy around the farm, helps during lots of our Shows during the summer and Hunting Days during the Winter. He also is in charge of filling out our Diary and has done a fantastic job at keeping us busy all year round. (The bird Roger is holding in the photograph is Candy our Mackinder's Eagle Owl)
Katy Thompson
Katy has recently joined the team after working in retail since leaving school. She has a keen passion for the birds and is learning everything about our birds very quickly! One of her hobbies is photography and you will see some of her snaps over on our social media pages.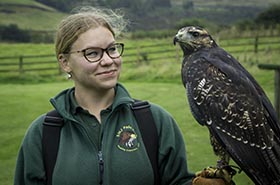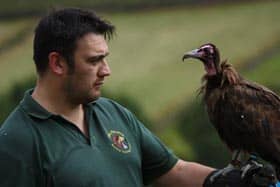 Ian Wright
Ian usually works with us one day a week and sometimes more when we are exhibiting at shows. He is a keen enthusiast with his own collection of owls. His own collection includes some rescued birds and also our very own, magnificent Canadian Great Horned owl, Inca. He has paired Inca with his own in the hope that one day eggs will hatch. Ian does everything from cleaning, to driving and occasionally commentating on flying demonstrations at our displays and shows. (The bird Ian is holding in the photograph is our Hooded Vulture, Julianne.)
Barbara Royale
We met Barbara by coincidence when she had arranged to use some nearby land for hunting, with a local farmer. Barbara has occasionally been helping us out ever since. She is a very handy person to know, because she and her husband own the Independent Bird Register, which means if a bird gets lost (or found) she's the person to call. From time-to-time Barbara joins forces with us for shows and weddings.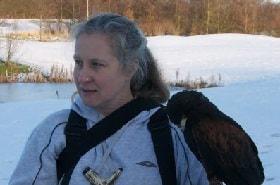 Our Birds
We have a large collection of birds of prey, including:
The owls
We have Barns owls, a Little owl, Scops owls, White Faced owls, a Boobook owl, an Ashy Faced owl, European Eagle owl, Bengal Eagle owls, an Asian Brown Wood owl, Snowy owls, a Burrowing owl, a Great Grey owl, a Northern Hawk owl, a Long-eared owl, a Chaco owl, a Canadian Great Horned owl, an African Spotted Eagle owl, a MacKinder's Eagle owl, a Tawny owl, a Tropical Screech owl and a Siberian Eagle owl.
The falcons
Peregrine falcon, Saker falcons, Lanner falcons, Gyr hybrid falcons, Merlins, American Kestrels and Eurasian (british) Kestrels.
The hawks
Harris hawks, a Common Buzzard and a Red-tailed buzzard
Other birds
A Steppe eagle, Hooded vulture, Black kite, Red kite and a clever Raven!
Location
You can come to us, or we can bring our birds to you. To enable us to provide you with the best, most personal experience we are a private falconry centre and visiting us is only available with a booking of one of our experiences. This means you get well looked after by a team dedicated to you and an in-depth, uninterrupted, engaging experience.
We're located in Oxenhope, West Yorkshire, which is close to the adjoining borders of West Yorkshire, North Yorkshire and Lancashire, in the UK.
Our private bird of prey centre is set in beautiful countryside, also only 2.5 miles away from the picture-postcard village of Haworth. It is an area of natural beauty and distinctive character. The landscape is rugged moorland, hills and valleys, interspersed by pretty reservoirs (a setting made famous by the descriptions it inspired in Emily Brontë's famous novel 'Wuthering Heights'). (Other areas nearby include Skipton, Colne, Hebden Bridge, Keighley, Bingley, Shipley, Saltaire, Bradford, Halifax, Leeds and Burnley - also the Yorkshire Dales, Worth Valley, Airedale and Calderdale.)
You can find out more about the local area on our links page