Sponsor a Bird of Prey
When you sponsor a bird of prey at SMJ Falconry we don't just give you a certificate and a photograph. We make your connection as meaningful as possible by offering you the chance to visit and handle your new friend twice during each year of sponsorship!
So, sponsor one of our birds of prey and in return we'll give you:
2 visits to handle your new friend, each year of sponsorship
a personalised sponsorship card & certificate
a photograph of your chosen bird of prey
Twlight - Female Barn Owl
Hatch date: 1/5/2013
Twilight is one of Chris's primary demonstration birds and takes part in most external shows and a lot of experience days here. She is very well behaved and loves to fly every day. Most people in Britain know of the struggle Barn Owls have had over the last 50 years, as such they are a firm favourite among young and old.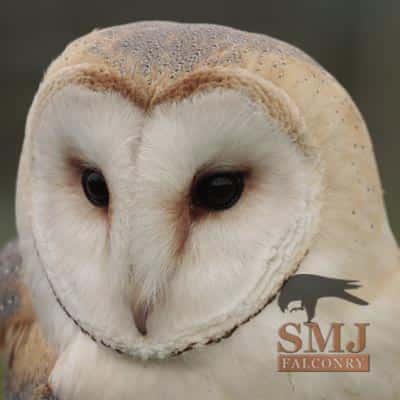 Click - Female Little Owl
Hatch date: 22/5/2013
Click is our only Little Owl, she is a very grumpy owl (most Little Owls are!) and is called Click after her "Clicking" her beak at us in protest as a young owlet.
Candy - Female MacKinder's Eagle Owl
Hatch date: 2/4/2010
Candy, our Mackinder's Eagle Owl is a lovely owl, she is very slow and patient. She is great at shows and also at flying during experience days. She has joined the ranks of the flying display team in 2015 and is still getting to grips with big crowds. So far she shows lots of promise and should be taking part in some of Chris's displays in 2016!
Dusty - Male African Spotted Eagle Owl
Hatch date: 10/4/2010
Dusty is one of Sandra's favourite Owls, she is part of her flying display team and also takes part in owl encounters. Dusty occasionally stars at weddings, doing flying ring deliveries, too!