Sponsor a Bird of Prey
When you sponsor a bird of prey at SMJ Falconry we don't just give you a certificate and a photograph. We make your connection as meaningful as possible by offering you the chance to visit and handle your new friend twice during each year of sponsorship!
So, sponsor one of our birds of prey and in return we'll give you:
2 visits to handle your new friend, each year of sponsorship
a personalised sponsorship card & certificate
a photograph of your chosen bird of prey
Henry - Male Harris Hawk
Hatch date: 1/1/2010
Henry is one of our hunting harris hawks. He came to us when he was 3 years old and has been a bit temperamental, he can be a little bit grumpy sometimes, but over the last year he has done most hunting days that we run and is a successful hunter.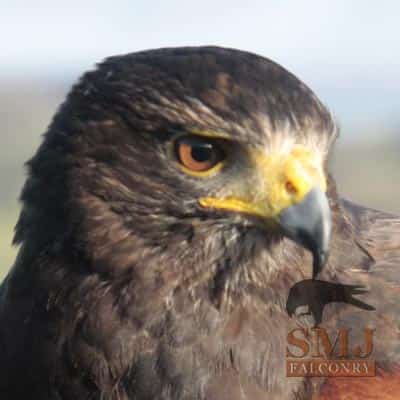 Oslo - Male Harris Hawk
Hatch date: 15/7/2003
Oslo is Chris's first ever bird and is our original bird. He joins Chris at lots of displays during the summer and is his hunting companion. Oslo is extremely reliable and a fantastic hunter, providing guests on hunting days a thrilling day.
Charlie - Male Harris Hawk
Hatch date: 9/6/2009
Charlie belongs to Matthew Kirby who is currently at University, whilst Matthew finishes his degree he is staying with us and he goes on hunting days as well as hawk walks.
Toby - Male Harris Hawk
Hatch date: 1/10/2007
Toby is our chief hawk walk harris hawk. He does most of our hawk walks and is very good at them. He soars over our little valley during windy days and follows us around the beautiful countryside. He isn't a very good hunting hawk as he is our smallest harris hawk, but he will occationally join the hunting team and can be successful on smaller rabbits/prey.