Sponsor a Bird of Prey
When you sponsor a bird of prey at SMJ Falconry we don't just give you a certificate and a photograph. We make your connection as meaningful as possible by offering you the chance to visit and handle your new friend twice during each year of sponsorship!
So, sponsor one of our birds of prey and in return we'll give you:
2 visits to handle your new friend, each year of sponsorship
a personalised sponsorship card & certificate
a photograph of your chosen bird of prey
Geoff - Male Peregrine Falcon
Hatch date: 24/5/2014
Geoff is a cheeky chap, he is our imprint (hand raised) peregrine. He is one of Chris's demonstration birds, he also visits schools and does pest control. Geoff join us at SMJ Falconry temporarily in August 2014, we took him on as he was an extremely noisy falcon, he would scream constantly when he saw anyone.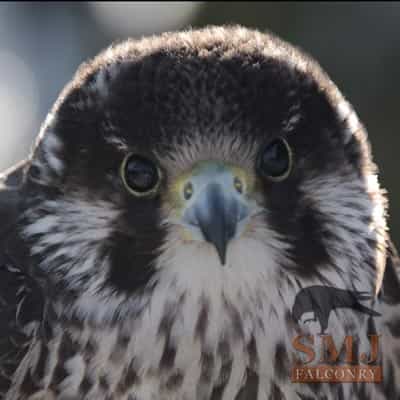 Jay - Male Gyr/Saker Falcon (Hybrid)
Hatch date: 19/4/2014
Jay is our white Gyr/Saker falcon hybrid. He is part of Chris's flying display team and can be seen at events with Chris all over the country. He is a fantastic flying bird and is always eye catching on our static displays.
Reggie - Male Peregrine Falcon
Hatch date: 19/5/2011
Reggie is our adult male peregrine falcon and is been part of Sandra's flying team. He is extremely fast and enjoys just flying rather than chasing the lure. He also takes part in our photography workshops and is particularly stunning when all the heather is in bloom.
Morris - Male Lanner Falcon
Hatch date: 4/5/2013
Morris is part of Chris's display team, he came to us at 6 weeks old (just as he was fully grown) and took straight to flying in demonstrations, he is an excellent bird to watch and will come really close over the audience's heads. He does occasionally go and have a wonder off from shows, most memorably from York where he ended up landing on a Frankie's and Benny's roof and waited for Chris to collect him.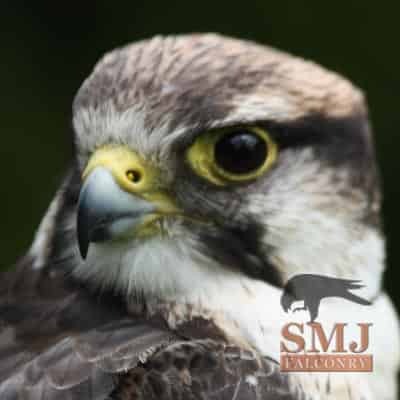 Murphy - Male (Jack) Merlin
Hatch date: 22/5/2011
Murphy is our star demonstration falcon. He is an amazing flyer and is thrilling to watch. James loves Murphy and flys him pretty much every day. He goes along with Chris's display team, but James is the one to fly him, he's certainly one to watch. He is also a perfect model for photography workshops.
Timmy - Male American Kestrel
Hatch date: 3/6/2013
Timmy is a cheeky little bird, he is our smallest bird weighing in at just 100 grams. Timmy is used for experience days, schools and birthday parties. He also travels around in both Chris's and Sandra's display teams.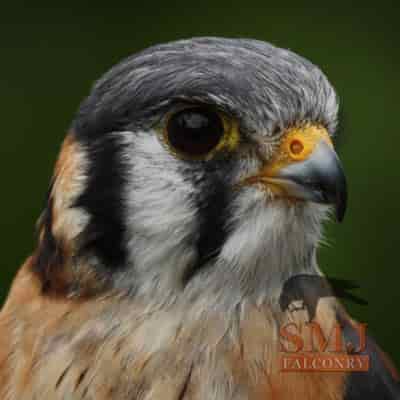 Pippin - Male Kestrel
Hatch date: 17/5/2011
Pippin takes part in our experience days, school visits and photography workshop. He is a very impressive looking Kestrel with his beautiful adult colours.